Water Fund for Memorial Gardens
and

Church Grounds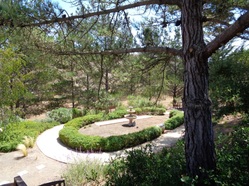 Due to water restrictions and the need to maintain the surrounding Memorial Garden and Church campus, a water fund has been established to offset the cost of watering the grounds.
How can you help? There are three ways to support the effort to keep the water tank filled.
1. Make a financial contribution to the fund by writing a check to St Paul's, and on the memo line, write: Water Fund.
2. Hauling the water to the campus.
3. Paying a water vendor directly to haul the water to our campus.
Options 2 and 3 require listing your name on a sign-up sheet in the parish hall and coordinating the deliveries with the Jr. Warden; so
option 1 is preferred.
Click on the button below to find a current list of water vendors in the Cambria area.
---

In addition, sign- ups for those wishing to help with the actual physical watering of the grounds are underway (See Parish Hall board.) Contact the Jr. Warden for further info regarding how to provide water or how to become a watering volunteer.
⇣ Drag elements to your Custom Footer Container ⇣
⇣ Drag elements to your Bottom Footer Container ⇣
Top