Please drag & drop 3 more SECTION elements to below this section. If you enable sections 6 and 7, you must drag and drop 5 more SECTION elements.
​February 11th
​
-Services at 8 and 10:30 am.

-Last day to order our church family photo! (I recommend the 8" x 12" horizontal"B")

-Remember to submit your RSVP and 3.00 for the Lenten Devotional Series
beginning Ash Wednesday.

-See sign-up sheet for Lenten Crown of Thorns readers in Parish Hall.
More on the Lenten Series, from Father Brian:
The devotional series,
Meeting Jesus in the Gospel of John,
is designed to reflect on the person of Jesus, His mission and His message, as presented in the writings of John in his Gospel and letters
.
You will receive a beautiful prayer journal that will walk you prayerfully through daily excerpts of
the Gospel of John
and
the Letters of John,
and, if you wish, you can watch short videos each day, delivered to your e-mail box and hosted by an SSJE Brother. He will reflect on what that day's verse meant to him and will make suggestions for prayers. We will come together weekly to reflect on the Gospel's messages.
Cost
: $3.00 for journal.
RSVPs needed
bpalmer@stpaulscambria.org
or call 927-3239
---
February 12th

Adult Wellness Clinic returns to Cambria- The clinic, which offers low-cost lipid panel screening and a variety of free services such as anemia and blood sugar screening, will now offer services from 9 am to noon on the 2nd Monday of every month at the Joslyn Center at 950 Main St. The next opportunity to take advantage of the clinic's services is Monday, February 12. (This is the same program that met in our Parish Hall until about 1 year ago.)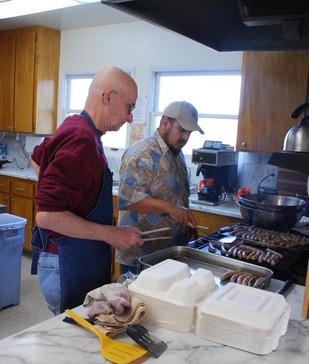 Shrove Tuesday - February 13th
​
Arnold's Breakfast Club

Feb 13 -Shrove Tuesday Pancake Supper, sponsored by the Men of ABC:
5:00-6:30 PM Free-will offering.

Menu includes pancakes, sausages, applesauce, oranges, coffee and tea.

Volunteers needed for the following shifts: SIGN UP IN THE PARISH HALL.

Set up & Cooking 4:00 pm - 5:30 pm
Cook Serve & Clean-Up 5:00 pm - 6:30 pm
​Clean-Up 6:00 pm - 7:00 pm
---

Feb 14: Ash Wednesday LENT BEGINS
​
3:00 PM Imposition of Ashes
4:00 PM Lenten Devotional Study begins (and continues each Wednesday through March 22.
DURING LENT WE WILL SWITCH TO EUCHARISTIC PRAYER B, AND WILL REFRAIN FROM SAYING "ALLELUIA" DURING WORSHIP, OR OFFERING FLOWERS FOR SERVICES.
​
​St. Stephen's fundraiser, Feb. 14 and 18.

​Bishop Mary Gray-Reeves will be part of the Feb 14th cast. More info on the Parish Hall bulletin board or check this week's "Ticket" inside Thursday's Tribune Newspaper.