St Paul's Outreach 2015 Year Funds
---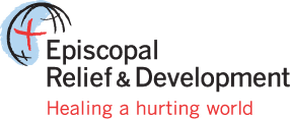 Episcopal Relief and Development
Episcopal Relief & Development is the compassionate response of
The Episcopal Church
to human suffering in the world. Hearing God's call to seek and serve Christ in all persons and to respect the dignity of every human being, Episcopal Relief & Development serves to bring together the generosity of Episcopalians and others with the needs of the world.
To find out more , or to make a personal donation to this worthy cause, please click the link below.
https://www.episcopalrelief.org/
---
---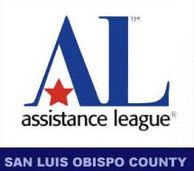 Assistance League - San Luis ObispoAssistance League
is a national 501(c)(3) nonprofit, non-political, nonsectarian service organization. The San Luis Obispo County chapter was developed in 1996 and is dedicated to recognizing the potential of volunteers in helping those less fortunate to a better, more meaningful life here in our county. Assistance League of San Luis Obispo County is a nonprofit, all-volunteer organization serving families and children through our philanthropic program
Operation School Bell
®, which includes
Sue's Stars
and
Operation Bookshelf
.
To find out more, or to make a personal donation to Assistance League, (SLO), please click the link below. Enjoy the video.
http://alslocounty.org/index.php
---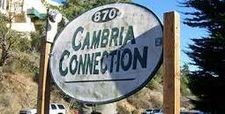 The Cambria Connection
The Cambria Connection is a non-profit, community resource center, that hosts 12 Step meetings, and a variety of other community meetings and activities as part of its mission to support families and individuals facing the challenges of aging, economic misfortune, alcoholism, and addiction. Its mission is to promote healthy individuals and families by providing a locally staffed and community oriented resource center.
To find out more about "The Cambria Connection" please visit their website at the link below.
http://thecambriaconnection.org/
---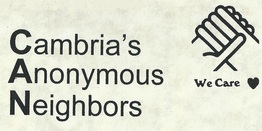 Cambria's Anonymous Neighbors

An organized group of 100 plus volunteers ready to assist our neighbors in Cambria and San Simeon in times of need. The group's purpose is to provide essential service on a short term basis during time of illness, recuperation or in special circumstances. Temporarily assist seniors who wish to maintain their independence and remain in their own homes.

To find out more about Cambria Anonymous Neighbors, or to find out how to donate to them, please call 805-927-5673. Or write to: PO Box 1797 Cambria CA 93428.

---
---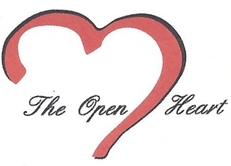 Cambria Community Council Fund
The mission of the Cambria Community Council is to provide seniors and the disabled free bus service in the Cambria / San Simeon area, with extended trips to SLO and Paso Robles. In addition the organization provides grants to 27 local non-profit organizations through grants. Youth athletic groups, senior nutrition programs, HART, and the Cambria Library to name just a few.
To find out more about Cambria Community Council fund, or to make a donation, please visit their website at the link listed below.
http://www.cambriacommunitycouncil.com/home.html
---
---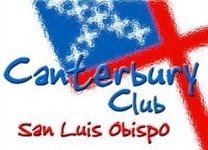 Canterbury Club-San Luis Obispo
"A group of college students and young adults who take their faith journeys seriously….well, seriously enough to show up and engage in ministry to and with each other. We are not (necessarily) all Episcopalians and we have no "litmus test" of belief to which you must subscribe."
To find out more about this very special group of young individuals, or to make a donation, please visit their website at the link listed below.
http://sloepiscopalians.org/canterbury/
---
---

Prado Day Center
Helping the homeless in SLO County Since 1997It can be a helpless feeling to be homeless, yet thousands find themselves in this predicament annually in San Luis Obispo County. Fortunately, our compassionate community has found an effective way to provide daytime services to assist the homeless. Each day 90 to 100 homeless men, women and children come to Prado Day Center. Since September 1997, Prado Day Center has provided essential day-to-day services for homeless members of our community. Meals served by the
People's Kitchen
, showers, laundry facilities and other vital services are available. The road of self-sufficiency is also aided with assistance for those seeking employment, housing referrals, social services, and enriching activities for the children.
http://pradodaycenter.org/
---
The Dambly Fund for Homeless Children
Helping Homeless Children In San Luis Obispo County
For many years, Burke Dambly wanted to provide help for homeless families. One Christmas, unable to find a deserving family on his own, he reached out to local pastor Rev. Curt Miner in San Luis Obispo who directed him to Homeless Services.
Mr. Dambly was shocked when, of the 35 homeless children who submitted wishes, 27 of them asked for shoes! The others asked for educational materials, including one third-grader who asked for a math book. Burke could not let these children go without. All 35 wishes were granted and from this, the Dambly Fund was established.
The Goal of The Fund
The Dambly Fund exists solely to provide homeless children in San Luis Obispo County with basic living and educational necessities. Providing these items allows these children to fit into society without the pressures and stigmas of homelessness. It is the hope of the Fund that the children who receive assistance will grow to become stable, compassionate members of our community.
http://www.thedamblychildrensfund.org/
---