ECW


Episcopal Church Women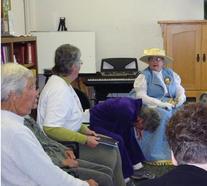 St. Paul's Episcopal Church Women meet on the second Tuesday of each month in St. Paul's Library. After lunch and fellowship, an invited speaker presents a program, which is followed by the group's monthly business meeting.

Left: Donna Crocker is portraying Phoebe Hearst for the February program

---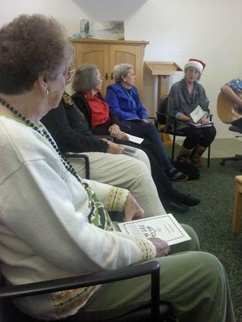 Every woman at St. Paul's is considered a member of the ECW, and visitors are always welcome. (Men also are invited, and often attend lunch and the monthly program.)

Right: Sara Blair Field conducting the December meeting
---
History of ECW at St. Paul's
St. Catherine's Guild was the mother of St. Paul's ECW. The Guild was organized at St. Paul's in November 1957, in the same month that St. Paul's was recognized as a Mission by the Bishop of the Diocese of California. A primary goal for the new women's group was to raise funds for the newly established mission, through table-setting contests, teas, fashion shows and food sales. Once enough money was raised to start building, the women also amply fed the men who came every Saturday to work on the building.

National ECW Website
In 1997, the women of St. Catherine's Guild changed their name to The Episcopal Church Women of St. Paul's to identify themselves with the ECW in other parishes of the Episcopal Church across the country.
---
ECW Annual Report
Our mighty group of hard working and compassionate women had a very busy and successful year, culminating in our distribution of funds. Prior to our adopted disbursement plan, ECW's funds on hand were $2362.00 (Mitford Tea and 2010 Rummage Sale). Presented and accepted by the ECW members at their November meeting was the following Disbursement of Funds for 2010:
Cambria Library Building Fund

$ 300.00

World Church Services:
Water

fund
$100.00
Loaves & Fishes

200.00

Breast Cancer Angels

100.00
Deacon Discretionary Fund

200.00

Episcopal Relief / Development

200.00
Heifer International

200.00

Parish Hall Window Coverings

500.00
Prado Day Center

100.00
ECW funds carried over to 2011:

$ 262.00
Congratulations to our 2011 officers: Georgia Spelts, President;

Donna Crocker, Program Chair; Linda Turner, Secretary; Joni Michel, Treasurer;

Sally Reilly, Devotions, Marg. Davy,

Sunshine and UTO Chairperson: Carol Schutz.
Sara Blair Field, Outgoing President