The Rt Rev. Mary-Gray Reeves
---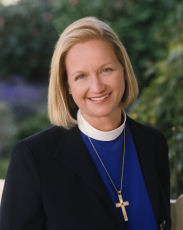 The Rt. Rev. Mary-Gray Reeves is a native of Miami-Dade County, born in Coral Gables and raised in the Coconut Grove section of Miami.

She graduated from California State University, Fullerton, in 1987 with a degree in history, and earned her Master of Divinity degree from the College of St. John the Evangelist in New Zealand in 1994.
After her ordination she served as assistant rector in two parishes in the Diocese of Los Angeles before accepting the call to be rector of St. Margaret's, Miami Lakes, in December 1998.

During her six years as rector, St. Margaret's engaged in a vision-mission-planning process, participated in the Nehemiah project and established the My Backyard afterschool program for middle school students.
While rector at St. Margaret's she served as North Dade clergy representative to the diocesan Executive Board, and has been a member of the Standing Committee.

Mary Gray Reeves was elected as the third bishop of the Diocese of El Camino Real in June 2007. She was ordained as bishop on November 10, 2007 at St. Andrew's Episcopal Church, Saratoga, California.


She lives with her family in the Monterey area.


---