About The Rt. Rev. Mary Gray-Reeves,
Bishop of the Diocese of El Camino Real annual visits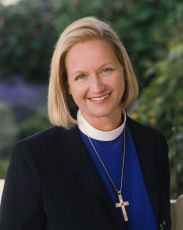 With 50 parishes and missions in the Diocese of El Camino Real and only 52 Sundays in a year, it takes 15 to 18 months for our Bishop to celebrate communion with all our congregations. She has said, "Visitations are a central part of my ministry with you, and I thoroughly enjoy being present in our congregations for worship as often as possible." As her schedule permits, however, she is happy to share in other meetings, special events, and celebrations.

To her, "the celebration of the Holy Eucharist is at the heart of what will happen at a visitation," This is also the time for Baptisms, Confirmations, Reaffirmations, and other parish celebrations.
---
⇣ Drag elements to your Custom Footer Container ⇣
⇣ Drag elements to your Bottom Footer Container ⇣
Top